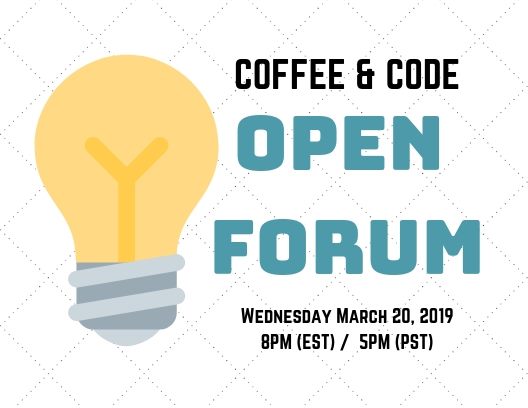 Coffee & Code – Open Forum
Have a question about the coding field?
Wonder which resources are better than others?
Wanna chat with people who code IRL?
Is your code not working and you don't know why?
Is your code working and you don't know why?
Well stop on by our open forum and hang out for a bit!
Virtual Code & Coffee events are relaxed, informal, and are intended as a way for our community to work and play together while providing each other with ongoing support and feedback. All are welcome regardless of gender or skill level. Meet new people and learn about tech. This meetup is great for active military service members, veterans, spouses, and military families who want to learn about coding.
This C&C event will be recorded.